By Paige Harris, Vice President of Architecture & Design
As telecommuting and the digital nomad way of life continue to grow in popularity, the hotel industry is facing significant changes in order to keep up with the new style of working sparked by the pandemic.
Though hardly anyone is grateful for the pandemic, plenty of working parents, recent graduates and globe-trotters, among others, are relieved to skip the building key cards, crammed elevators and long commutes of office life. Now, work-from-anywhere professionals can take their Zoom conferences from their favorite destinations – from tropical islands to bustling metropolitan cities and beyond.
The hotel sector has had to adapt to accommodate the demands of a career-focused consumer who wants their hotel experience to provide a productive work environment without feeling like a stuffy office. These days, hotels are more than simply a place to sleep; they're also bustling hubs where guests can easily combine business with pleasure. Hotels are changing to meet the needs of those who need to keep in touch with the office while away.
Sort of like a short-term lease or a long-term trip, doing business from a unique spot in a major city anywhere around the world is about as cool as working remotely gets. After all, if you're going to be getting through morning meetings and spreadsheets with coffee and a pastry in hand, they may as well be cafe au lait and a croissant from an artisanal bakery in Paris or a strong cup of the most quality Columbian coffee in Cartagena.
Whether it's a quick getaway close to home, or even stretches as long as a year in far-flung destinations, appealing to remote workers is a vital tactic to win over guests looking for more out of their 9 to 5.
Residential Rules for Remote Workers
With this shift in remote work, we have also seen a change in design priorities as the first stage of this development, going beyond merely having moveable furniture, strong Wi-Fi and power outlets. Modern hotels are putting more effort into designing areas where guests feel comfortable working, mingling and even networking. To help guests feel more at ease when traveling, the hospitality industry has been trending toward a homier and more residential look and feel. This is similar to how many of us have adjusted our homes to allow for remote work as a result of the pandemic, blurring the distinction between personal and professional life.
In the hospitality sector, the idea of a "work-life balance" is evolving as hotels undergo extensive renovations, adding more common spaces like cafes, libraries or other specialized public areas to accommodate more people. As a result, the guest rooms themselves are changing– becoming less compartmentalized as guests have more options than ever where to work once checked in to their destination.
One of the most notable changes is the evolution of the hotel lobby. Once used primarily for check-in and check-out, these spaces are now multipurpose areas where guests may sit, unwind, and get some work done amidst the hustle and bustle around them as a means of recharging their social battery.  It has evolved into an alternative workplace that's possible in a completely new environment.
The lobby areas of many newer hotels are designed to make guests feel inspired with elevated touches ranging from cozy fireplaces and outdoor seating to works of art and plenty of plants. These areas are also made to accommodate a variety of work activities, from solo laptop use to collaborative brainstorming. The key is adaptability, letting visitors pick the atmosphere that works best for them.
Redirecting Traffic
Guests used to have the option of retiring to their hotel rooms for some time alone. However, today's bleisure travelers are looking for something different. They'd rather not stay in their rooms all day, but instead go out and mingle with others, possibly wearing headphones so they can get some work done while still being amidst the activity.
This change has significantly influenced hotel architecture and design. Hotel guests can be found in the lobby, lounge and other public spaces around the clock. Mornings and evenings, traditionally peak times, have been thrown off. Guests are taking advantage of the adaptability of hotel meeting rooms as an alternative to the rigidity of a regular workplace.
Additionally, we have seen a shift in making guestrooms more open-concept to combat the feeling of being trapped in their room while working. At certain properties, such as The Lodge at Gulf State Park, guests can even opt to host meetings in their own room with meeting suites that provide a high-design guestroom and meeting space complete with full-service meetings capabilities for the best of both worlds.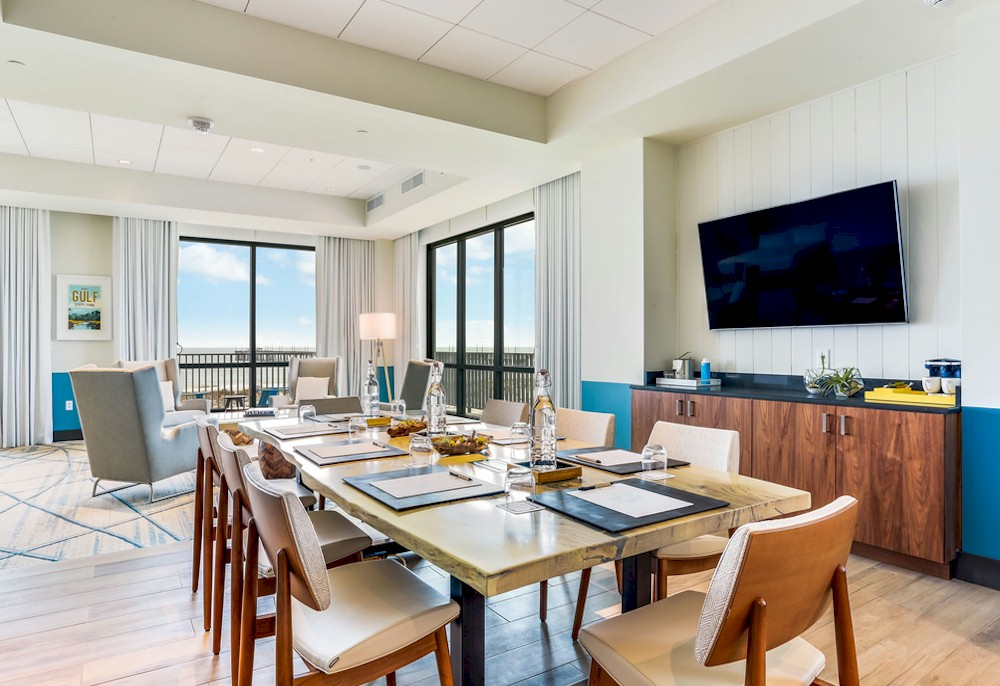 Creating a Sense of Community
As hotelitarians, we strive to cultivate a sense of community at each and every one of our properties around the globe. We understand that while being untethered to an office can be liberating, digital nomads and remote workers can feel isolated outside of the office. By creating a welcoming space for coworking, this helps to foster connections, provide networking opportunities and inspire new ideas.
At each location, we also pull in design and cultural elements from the property's region and specific traditions and environment. No matter where our guests are traveling, we want them to feel comfortable and at ease while also challenged and embraced by their temporary home culture. This is demonstrated through unique food and beverage items, artwork and fine detailing. We love embracing the local culture while also providing the comforts and accessibility of a digital-focused and modern environment.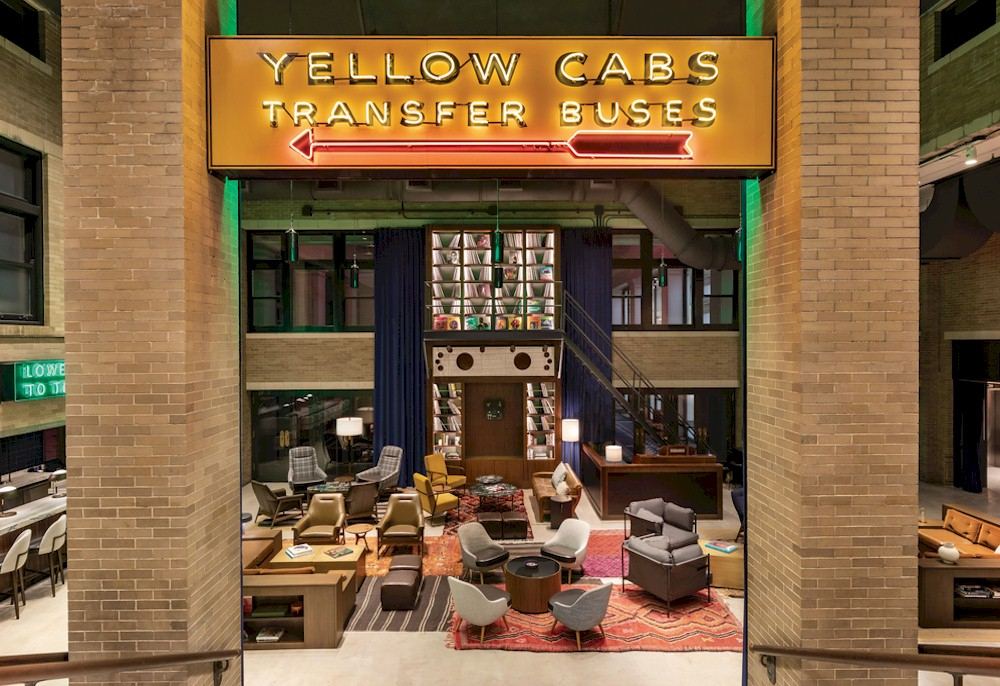 Social Media Takes Center Stage
As we continue to navigate the newest and hottest social media platforms, many travelers are still swayed by the Instagrammable nature of their surroundings–and digital nomad workspaces are proving to be no different. While we don't design for Instagram, we do often find ourselves asking "would I want to show off this space to my friends?" In this new era we're in, our feeds are inundated with scenes of friends and acquaintances working away in a fabulous lobby or situated with a lovely latte (or the occasional beer!).
We strive to create spaces that people are proud to show off. There can be so much fun to be had when designing working spaces – from stylish yet ergonomic desks to plush chairs and couches for optimal comfort and style. This is especially beneficial with the growing number of influencers and travelers who are documenting their experiences online. We want to always display a space that is representative of that concept.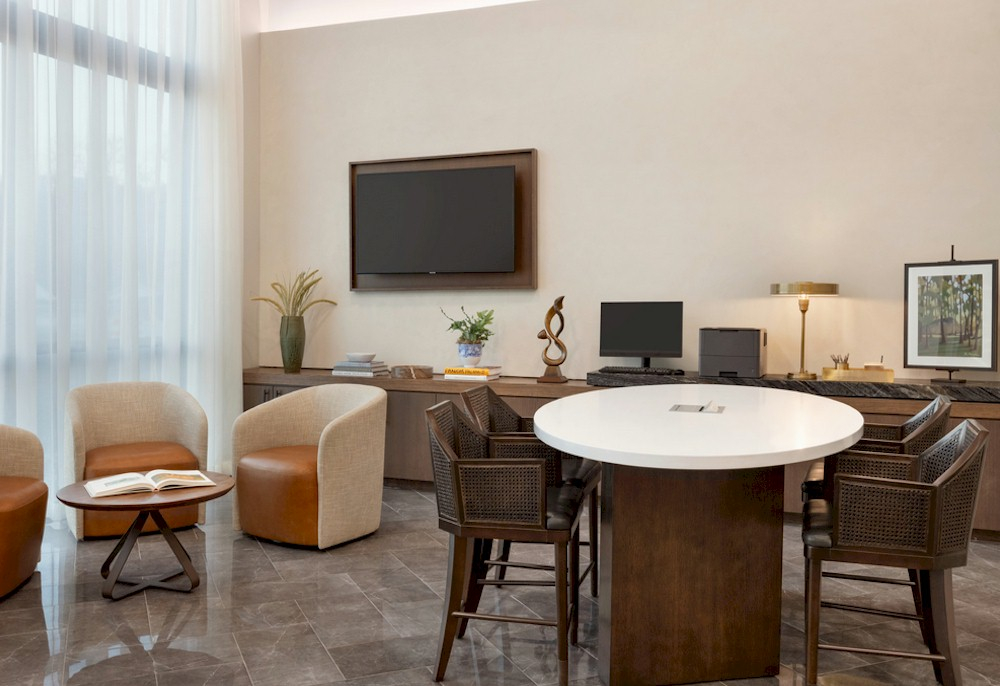 An Opportunity for Ancillary Revenue
In addition to providing guests with a productive space for work and play, hotels can expect additional streams of revenue from welcoming remote workers with open arms. Throughout the day, as remote workers get hungry or need a caffeine boost, onsite food and beverage concepts can expect a bump in revenue from the co-working-like spaces the hotels have created.
For example, our Crowne Plaza in Suffern, New York is currently undergoing a renovation where we are implementing new lounge and work spaces across the public areas. This includes the lobby as well as food and beverage spaces so guests can blend relaxation and productivity. We're also renovating an underutilized boardroom to become a combination meeting and lounge space of its own. This produces a revenue-generating area where guests can work in a lounge space and host their own guests for meetings, either in person or virtually. This also exposes the property to potential new guests.
For hotels having a difficult time adapting to fit the needs of today's travelers, consider the added benefits that you might be leaving on that table.
Adapting to New Demands
More and more cutting-edge design solutions that effortlessly combine business and leisure for today's connected travelers are on the horizon as the hotel sector continues to evolve. Valor Hospitality is motivated by this change and dedicated to maintaining agility and pioneering design that fulfills the expectations of modern travelers. The next generation of tourists will be welcomed by hotels that are designed to spark their imaginations, encourage their participation, and feel like a home away from home.